5 Must-Do Activities For Creatives & Solopreneurs To Take Them From Brainstorm To Brand
Whether you're starting out or rebranding, these five steps are designed to help you gain clarity, navigate the noise, and finally get down to business.
As the New Year approaches, do you or a loved one have an idea you'd love to see come to life? Have you been thinking about starting a business or rebranding an existing company but not sure where to begin?
Well I have a solution for you. It's a 5 step program known as Brainstorm To Brand™ that will help you gain clarity, navigate the noise, and finally get down to business.
Brainstorm To Brand™
is a self-paced online course designed for dreamers, creatives, and solopreneurs who have dreams of starting their own passion-driven business.
However due to various obstacles – lack of resources, lack of confidence, analysis paralysis, full time job, family + kids etc – haven't been able to get their idea off the ground.
Truthfully, you probably haven't started because the thought of wearing all the hats – creative director, accountant, salesperson, social media guru – is not only daunting but intimidating.
All you want to do is go from your idea to executing what you love.
As a former corporate consultant who transitioned to running my own business in a completely different industry, I can totally relate to everything you are feeling!
As a matter of fact, I can confidently say I have probably made every possible mistake you can make – spending a fortune I didn't have, operating without a business plan and just a gut feel, giving up on a plan of action too early, not pivoting from said action early enough, making the right decisions regarding clients and how to deal with feast / famine seasons and so much more.
I have looked failure in the eye more times that I would care to admit.
But through it all, I have learned that there are
5 Must-Do Activities For Creatives & Solopreneurs To Take Them From Brainstorm To Brand™
that had I known to put in place when I started down the path of entrepreneurship, would have mitigated several of the pitfalls I faced and I would have had a smoother transition.
I have created this self-paced program to be that guide that steers you in the right direction. I will be the first to tell you that, this program is not the end all be all. It
will NOT
make you a millionaire or drive 1000s of new clients your way.
What it
WILL DO
is help you create the solid and sound brand foundation you need to execute your ideas in a coherent, professional, and inspiring way so your audience has clarity about who you are.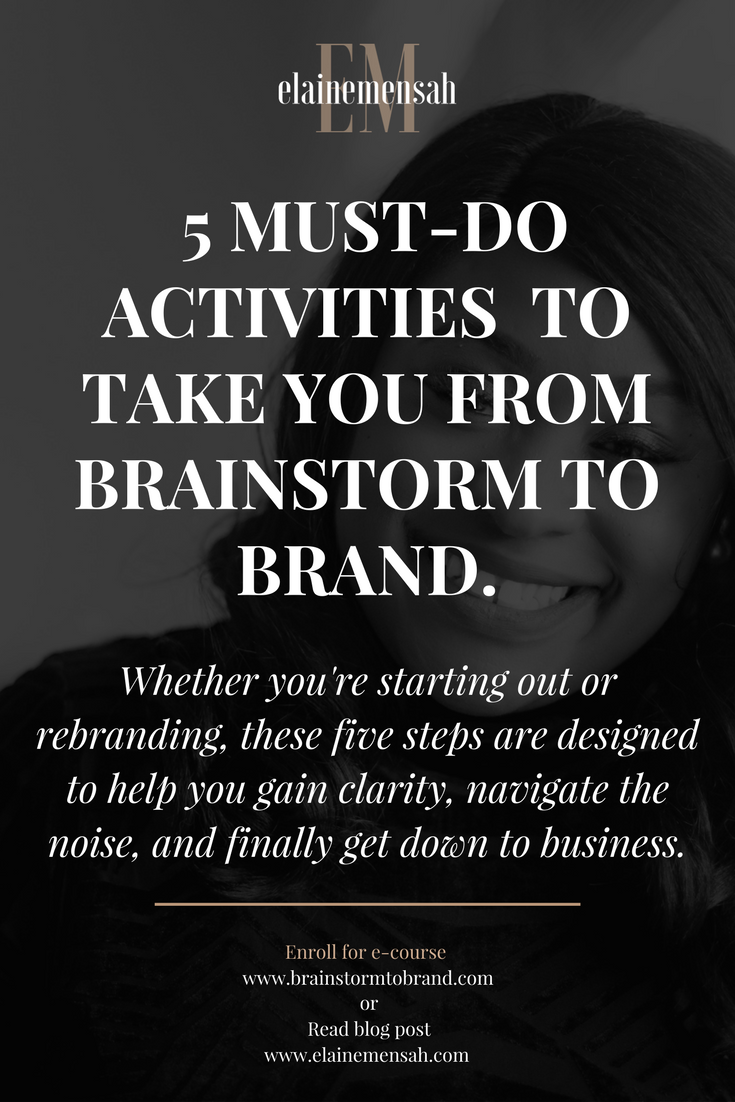 The processes you go through in the modules will force you to confront and address the following questions:
1. Why Am I Really Doing This? / What is My Motivation For Doing This?
2. Is My Passion, Intention, and Purpose Sustainable?
3. What Is My Vision and Who Am I Talking To?
4. Is My Idea Viable In My Desired Market?
5. Are My Priorities Aligned With My Desired Outcomes?
6. How Do I Manage and Temper My Expectations?
7. Ultimately What Are My Goals & What Is Realistic Given Time, Money, and Resources?
So get ready for a mind-altering experience that will help you, step-by-step, build a solid and sound foundation for your passion-driven business to stand on.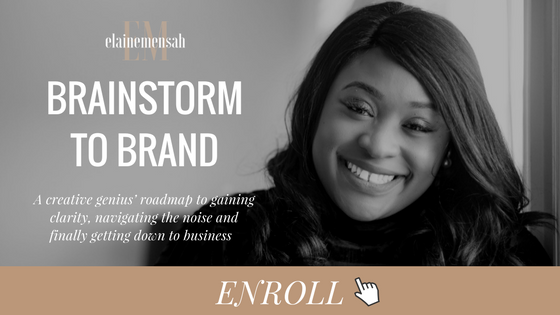 Brainstorm To Brand™ will help you get:
A clear head—Unclutter your brain and whittle down your idea in order to create a business that aligns with your purpose, passion and life priorities.
A clear vision—Create a brand that captures the soul of what you do and move from dreaming to doing with the right name and the right customers.
A clear plan— Set yourself up for success with realistic goals, resources to start on the right foot, and simple, effective strategies to bring your brand to life.
5 MUST-DO ACTIVITIES
MODULE 1: Determining Your Brand Soul: Explore your purpose, passion and the distinct value you provide.
MODULE 2: Your Business vs. Your Brand: Learn why you need to drive your business with a definitive and distinct brand vision and how to create one.
MODULE 3: The Power of Market Research: Knowing where your offering fits in the market is key. Evaluate your competition and ideal client so you know where to fill in the gap.
MODULE 4: What's In A Name? It may seem simple, but choosing the right moniker for your small business is imperative. Discover how to pick a name that conveys the right message.
MODULE 5: Bringing Your Brand To Life: Finally get down to business and introduce your passion-driven brand to the market with this step-by-step guide.
Each in-depth lesson of this course will probe you to answer the right questions so you can make the right moves for yourself and your business, and guide you through a realistic action plan to actually start a successful creative business.
By the end of our time together, you'll have clarity, the shape for your vision and an executable strategy to get this thing off the ground—finally.
BOTTOM LINE: This business that's been twirling around in your head (for years) isn't going to build itself. I know that you've been meditating, dreaming, planning, researching and to-do listing your business concept to pieces.
All you want to do is go from your idea to executing what you love, but you're overwhelmed by everything it takes to get there.
I'd love to help.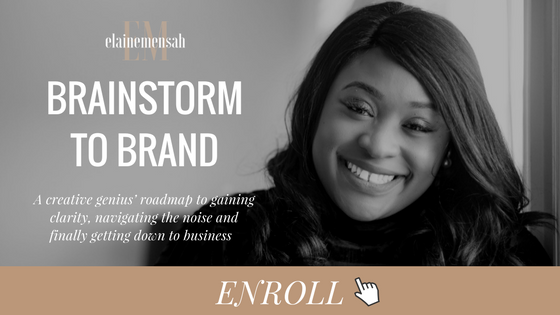 YOU MIGHT ALSO LIKE THESE